Most schools and daycares have re-opened after a long hiatus. However, they haven't fully gone back to normal. In most schools, kids go to school on alternate days and in others school is in session for a shorter duration than normal.
Therefore, the need to keep kids engaged in learning activities at home is still present. As we talk about the elementary level children, many creative and fun-loving activities come to mind. However, some require detailed preparation while others need a thorough clean-up. Moms love to do budget-friendly activities that keep the kids involved for a long time.
So, let us learn about some creative, hassle-free, and entertaining activities for your little ones. Covering multiple concepts like pencil holding, matching, balancing, and many others, they are ideal for indirect learning.
Some of these great activities include:
1 – Sunflower Word Creation
Reading and exploring words is not just limited to books. Make it an entertaining task by creating a sunflower with a paper plate and joining petals on the side with glue. Write the last 2 letters of a 3 letter word on the petals.
Like if the word is "hat", you will write "at", for the word "day", you will write "ay". Make 16 petals so that you can cover all 16-word families. Now when you have pasted the petals on the paper plate, put a Popsicle stick on the back. Be sure the Popsicle stick is in the center.
Take another paper plate and write all 26 letters on the edges. Now make a center hole on both plates. Put the petals plate below the letter plate and join both of them with the pin. Now, your child can easily spin the letter plate and make new words with word families written on petals.
2 – Flower Pattern
Filter papers are easily available in any home. Do a science experiment and use it for décor. Yes, you can easily make colorful flowers with filter paper. Take 4-5 filter papers and draw vertical lines with a marker. Now fold them into triangles and dip the pointed side in the water. Kids will love to see how the colors get scattered, and a pattern is created. Now open the triangles slightly from the top so that it takes the shape of a flower. Put them in a vase, and you are ready to put it on your shelf.
3 – Treasure Hunt
Let your little ones think at their best. Give them this chance by playing a treasure hunt game. Hide something in the backyard. Now, draw a map with easy to follow instructions. Let the child follow the instructions and bring the treasure. Your child will gain confidence after finding it. Besides this, it will sharpen their map reading skills.
4 – Fraction Plate
Learning fractions will become a piece of cake with this creative fraction plate. Take 5-6 paper plates and stick chart paper on the plate while leaving the edges uncovered. In this way, the entire middle part of the plate will be covered with the chart paper. Use a different color of chart paper for each plate.
Now, cut the plate as per the fraction. For instance, if you want to tell about ½, cut the plate into two and write ½ on each part. Be sure to put both pieces of the ½ parts together in the form of a plate. This will tell children about the full plate before cutting it into 1/4th, ½, 1/8th, and so on.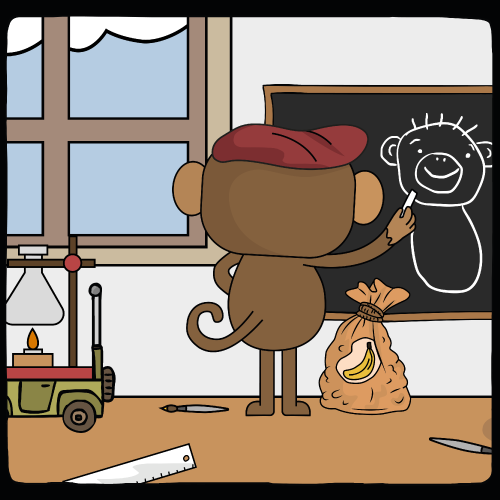 5 – Letter Jumping
Learning and working out can be done together. Little ones have an abundance of energy and are always ready to jump. Let them enjoy and learn on a chalked letter chart. You need to create a chart in a grid form and fill it with letters. You can use any color of the chalk as per your floor. Now say different sight words. The child needs to jump from letter to letter for following the word.
6 – Memory Game
This single activity can be used for various objectives. From synonyms and antonyms to memory check and vocabulary, you can do multiple things by arranging this card memory game. The game is simple. Just write a new word on one card and definition on another. Let the child match the word with its definition.
7 – Color Mixing Experiment
Kids love to combine different colors. Color mixing is an amazing experiment and can be done with a few household products. Line a deep dish with some baking soda. ½ inch width is enough. Now add some drops of colors. In the end, add a cup of vinegar to see how the colors will mix. This experiment is great to learn about colors. You can also mix powdered color in baking soda—mix colors in different bowls. Now, spread the colored baking soda in the form of a rainbow. Add vinegar and see the magic!
8 – Story Map
You can also teach kids how to write creative stories by creating a story map. Create sections like characters, setting, beginning, middle, and end. Now tell a new story and pick the one from their favorites. It may be Cinderella, Thumbelina, Goldilocks, or any other. Now make cards for each section and let the child put the card in the respective section.
9 – Flag Making
Increase your kids' general knowledge by showing them the flags of different countries. Discuss the colors, signs, and design. Tell the reason behind each design and then ask the child to design one flag for the family. Your child will love to put creativity and feel confident in creating a flag independently.
10 – Water Sports
Kids love to play with water. Let them learn something new this time. Take two bowls, one with water and the other empty. Put both in a tray along with a sponge. Ask the child to dip the sponge in water for a few seconds. Now, squeeze the sponge into another bowl. Tell your little one how the other bowl got filled without adding any extra water.
Conclusion
In short, learning time can be filled with fun and excitement. Introduce various concepts to your child with the above-mentioned activities. Design some more activities and do not forget to share them with us!
ABOUT THE AUTHOR
Nouman provides ghostwriting and copywriting services. His educational background in the technical field and business studies helps him in tackling topics ranging from career and business productivity to web development and digital marketing. He occasionally writes articles for carpet cleaning.