learn all about codemonkey's coding courses
CodeMonkey's
k-8
curriculum
CodeMonkey offers educational resources suitable for different grades and experience levels
With CodeMonkey's fun and intuitive curriculum, your students will learn to code in no time!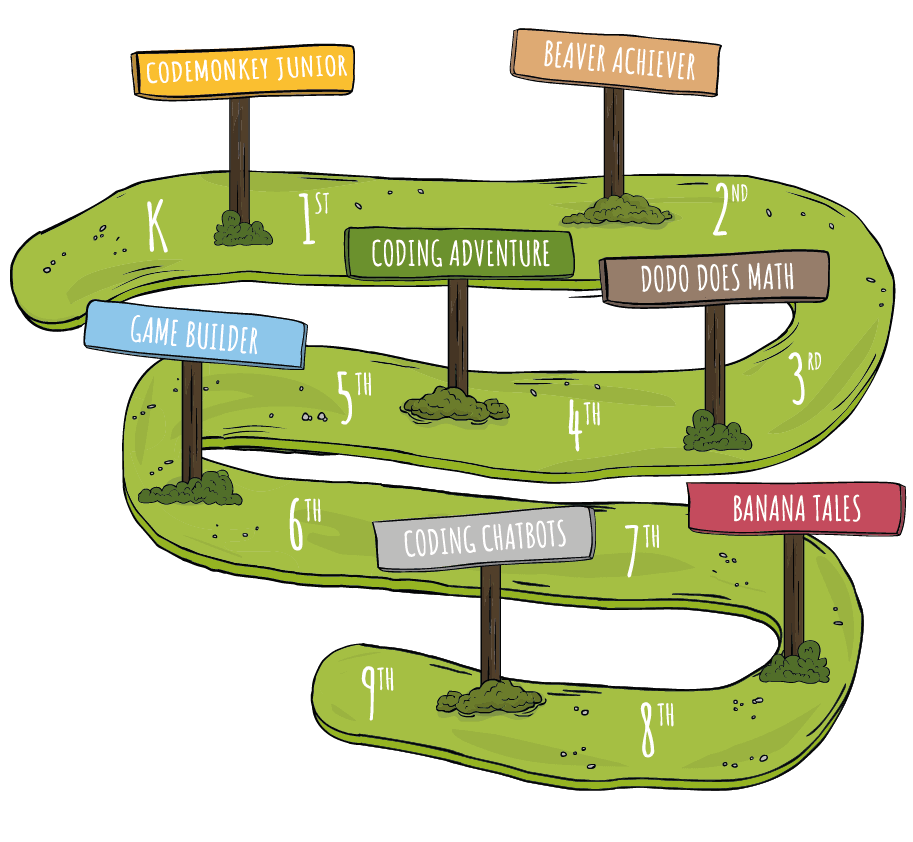 Which courses are you interested in?
advanced coding & creation
CodeMonkey Jr. is for your youngest learners. This app teaches kindergarteners the basics of coding with a progression of gaming challenges. Using blocks, students will build a set of visual coding instructions to help lead a monkey to a treasure chest.
Beaver Achiever is great for stimulating young students to learn essential coding skills. Your students will use coding blocks to help the friendly beaver complete different tasks in its natural habitat.
Dodo Does Math's highly engaging challenges offer students a memorable way to practice math as they code in CoffeeScript. In each challenge, students need to help the dodo get to her eggs by utilizing real-world coding and math skills.
Coding Adventure is a game-based environment where students learn to code in CoffeeScript as they help a monkey catch bananas. The course provides an easy entry into text-based coding.
After completing CodeMonkey's award-winning coding courses, students will be able to navigate through the programming world with a sense of confidence and accomplishment!
After completing the game design courses, students will get to execute every stage of the game-creation process – from choosing their own backgrounds to programming the rules of their games. 
With its chatbot interface, easy-to-read instructions, and real-world programming, Coding Chatbots is the perfect project-based solution for older students. In Coding Chatbots, students learn Python  and chatbot interface elements as they program a real chatbot to host a popular guessing game.
Digital literacy courses will introduce students to the different aspects of computers and how to use them. It will also teach students how to behave safely in the digital world. In each lesson, the students will learn a new subject by following a guided course, play various games that use the knowledge they just learned and answer review questions to demonstrate their knowledge on the topic. 
Monthly Activities are ✨1 WEEK ONLY✨ games that change monthly! It's a fun way for kids to get a special bonus coding course that relates to the current holidays! All holiday course activities are on the Game Builder platform using block-based coding. Available for Schools, Home, and Trial users!
What are you waiting for?
Start teaching your students the basics of Computer Science and prepare them for the future!